By supporting the Restore Sharp Park campaign, golfers can have it all. Restore Sharp Park will create a National Park and improve affordable golf. Local communities will benefit, and unique local wildlife will thrive. But we need golfers' support to make that happen.
Good for golf.
The Bay Area golf market is in trouble:
Golf is overbuilt. There are 6 million more golf rounds each year than golfers want to play.
Golf's popularity peaked in 2004. Now the game loses about 3 million US players each year. Golf's popularity will not recover.
Under these conditions, some Bay Area golf courses must close. The only question is which ones.
Sharp Park Golf Course is one of San Francisco's worst performing golf course. It lost more than $1 million over the past eight fiscal years and receives failing grades in nearly every category that the National Golf Foundation uses to rate golf courses. Winter rains cause flooding at the Golf Course, and it is threatened by rising seas.
Winter flooding at Sharp Park Golf Course.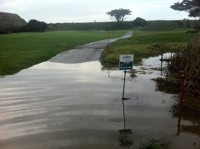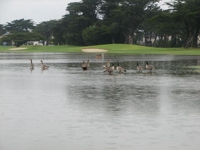 The Golf Course's legal and environmental problems add to its financial problems, diverting funds away from the City's other affordable golf courses.
Closing Sharp Park Golf Course will improve San Francisco's Golf Fund, the quality of affordable golf in the City, and Bay Area golf's social and environmental legacy.
Improve Bay Area Golf's Legacy.
Sharp Park Golf Course is an ecological disaster and an economic failure. It is a blemish on Allister MacKenzie's otherwise successful career.
MacKenzie ignored the value of Sharp Park's natural systems. His design destroyed the natural flood protection provided by wetlands, lagoon, and barrier dunes. Unsurprisingly, the opening day for the Golf Course was delayed two times due to flooding.
After the course opened, ocean storms swept away the holes that were built on flattened sand dunes. Few MacKenzie-designed holes remain.
It is better that MacKenzie be remembered for his most successful courses rather than the ecological destruction and economic folly that is Sharp Park Golf Course.
Restoring Sharp Park will Benefit Your Community.
San Francisco, Pacifica, and San Mateo County residents all stand to benefit from Sharp Park National Park. Sharp Park Golf Course, on the other hand, drains taxpayer resources, threatens local wildlife, and provides recreation for a shrinking portion of the population.
Together, at Sharp Park National Park, we can fulfill both our responsibilities to our neighbors, to nature, and to providing easily accessible, affordable golf at better golf courses around the Bay.

https://wildequity.org/wp-content/uploads/2016/01/transparent-logo.png
0
0
Wild Equity
https://wildequity.org/wp-content/uploads/2016/01/transparent-logo.png
Wild Equity
2013-10-15 21:30:18
2013-10-15 21:30:18
Golfers