Sharp Park Golf Course is a drain on San Francisco's resources, but Sharp Park can be transformed to benefit the City. We must urge the City to transform Sharp Park into a National Park.
Sharp Park National Park will:
Allow the Recreation and Parks Department (RPD) to reinvest its funds in services within San Francisco's city limits.
Allow the National Park Service to transform Sharp Park to better meet San Francisco resident's recreation preferences. The National Park Service has stated three times in writing that it wants land, but not the golf course.
Protect the San Francisco Garter Snake that bears the City's name, and the California Red-legged Frog that has played a prominent role in California's history.
The City can do all this while saving money:
Sharp Park Golf Course's financial problems on the cover of SF Weekly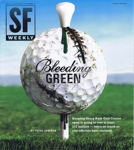 Reinvest in City Neighborhoods
Rather than lose taxpayers' hard-earned money, creating a National Park at Sharp Park will transfer land management to the National Park Service, which will fund the creation of a new park everyone can enjoy. The RPD can then reinvest in services within San Francisco, without the losses Sharp Park imposes. Affordable golf, neighborhood parks, and social services will benefit.
Improve Recreation
Providing hiking and biking trails at Sharp Park will better meet San Francisco residents' recreational needs. Sharp Park National Park will connect the California Coastal Trail and the Bay Area Ridge Trail with miles of new hiking trails.
In a 2004 survey conducted by the Neighborhood Parks Council, more hiking and biking trails are San Francisco residents' #1 priority for recreation in the City. Golf ranked 16th out of 19 options.
Protect Rare Frogs and Snakes
We have a duty to the California Red-legged Frog and the San Francisco Garter Snake. Our responsibilities are twofold. As rare and beautiful creatures, the Snake and Frog have a right to live. Future generations of Californians have a right to observe them in real life. Together, at Sharp Park National Park, we can fulfill both these responsibilities.
How can you make affordable golf, more hiking and biking, and a better city budget part of San Francisco's future?
https://wildequity.org/wp-content/uploads/2016/01/transparent-logo.png
0
0
Wild Equity
https://wildequity.org/wp-content/uploads/2016/01/transparent-logo.png
Wild Equity
2013-08-27 20:56:25
2013-08-27 20:56:25
San Franciscans