Thanks to thousands of calls and emails from supporters like you, the federal bailout of Sharp Park Golf Course proposed by Congresswoman Jackie Speier was not adopted by the 111th Congress before the congressional session expired. This means that the bailout proposal is over: unless it is reintroduced and passes both the House of Representatives and the Senate during the 112th Congress. With the Republican takeover of the House of Representatives, this seems unlikely to occur.
"Democrats & Republicans, environmentalists and budget hawks, social service providers and open space advocates all agree: there should be no federal bailout of Sharp Park Golf Course," said Brent Plater, Executive Director of the Wild Equity Institute. "If federal dollars are spent at Sharp Park, taxpayers deserve a federal asset in return, and the best asset would be a National Park that everyone can enjoy, not just golfers."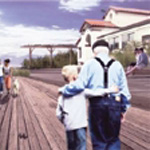 A Restoration Vision for Sharp Park.
The federal golf bailout submitted by Representative Speier would have taken money dedicated to wetland restoration and used it to build a sea wall at Sharp Park. To justify this diversion of funds, the Congresswoman argued that the sea wall was needed to protect endangered species at Sharp Park. However, ecologists and biologists that have reviewed the proposal determined that the opposite is true: the sea wall would doom Sharp Park's endangered species while causing Sharp Park Beach to erode away.
Although the possibility seems slim, the federal golf bailout could be reintroduced in the 112th Congress. Fortunately, Representative Speier has increasingly focused her efforts on restoring the Bay Area's wetlands. She was recently quoted in the San Francisco Chronicle stating that "restoration of our wetlands is critical for wildlife and our future."
Contact Congresswoman Jackie Speier today at (202) 225-3531 and thank her for her efforts to restore the Bay Area's wetlands. While you haver her on the phone, encourage her to extend this concern to Sharp Park by supporting a new national park on the property.
https://wildequity.org/wp-content/uploads/2016/01/transparent-logo.png
0
0
Wild Equity
https://wildequity.org/wp-content/uploads/2016/01/transparent-logo.png
Wild Equity
2011-01-09 23:56:45
2020-08-14 21:04:14
Federal Golf Bailout Stopped! For Now . . .