At long last, the San Francisco Board of Supervisors is set to vote on an ordinance that will build a new national park at Sharp Park! Please stand up for the "underfrog" by attending the hearing on Monday, Dec. 5, 10am at San Francisco City Hall, Room 250, and tell the Supervisors your support restoring Sharp Park!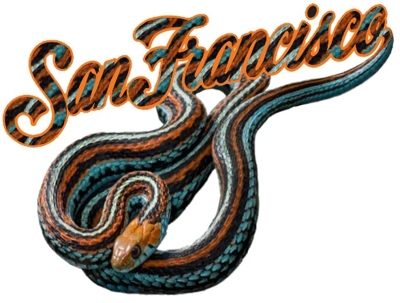 On Dec. 5, San Francisco will vote to save it's namesake serpent.
At this hearing the Board's City Operations and Neighborhood Services subcommittee ("CONS") will vote on an ordinance introduced by Supervisor John Avalos—who also chairs CONS—and improved with feedback from planners, city attorneys, and neighborhood and community groups who support restoring Sharp Park.
Sharp Park Golf Course loses hundreds of thousands of dollars annually, kills two endangered species, and is eroding away as our climate warms and sea level rises. Despite all these constraints, some golfers are demanding a taxpayer bailout for the golf course so they can continue to play subsidized golf on unsustainable land.
The Avalos Ordinance ends this practice by directing the City's Recreation and Parks Department to offer to close Sharp Park Golf Course and negotiate a long-term management agreement for Sharp Park with the National Park Service. The agreement must be consistent with National Park Service management directives and policies, and must take into account modern recreation preferences, adaptation to sea level rise and climate change, and the protection of endangered species on the site. Once the agreement is negotiated, it would be subject to all applicable environmental review processes before it is implemented. To improve access to affordable golf, the Ordinance provides Pacifican golfers with San Francisco resident rates at the City's five other municipal courses.
Once this process is completed, the public will finally have access to a land that was long ago deeded for use as a "public park, or public playground." The land will be integrated into existing national park properties east and south of Sharp Park, provide connections between the Coastal Trail and the Bay Trail, and provide the National Park Service with its first visitor center in San Mateo County. All of this can be accomplished while adapting the coast to sea level rise and climate change and helping the two endangered species on the site recover.


A restoration vision for Sharp Park.
This is the public's only opportunity to weigh-in on the ordinance. We can win this vote—but only if all our supporters attend the hearing and tell the Supes that you want a better public park at Sharp Park!
Please attend the hearing on December 5, 2011, starting at 10am at San Francisco City Hall Room 250. When you arrive, you can fill-out a public comment card, hand it to the clerk, and then when your name is called you'll be given three minutes (or less) to tell the Supervisors why you believe restoring Sharp Park is the best option we have available for the land.
To find out more about the ordinance, you can read a summary and download the text here. And if you just can't make it to the hearing, you can always send a message to the Board expressing your support of the campaign using our action alert system.
https://wildequity.org/wp-content/uploads/2016/01/transparent-logo.png
0
0
Wild Equity
https://wildequity.org/wp-content/uploads/2016/01/transparent-logo.png
Wild Equity
2011-11-29 09:19:08
2020-08-14 21:42:51
What You've Been Waiting For: Supes Vote to Restore Sharp Park Dec. 5, 10am!!